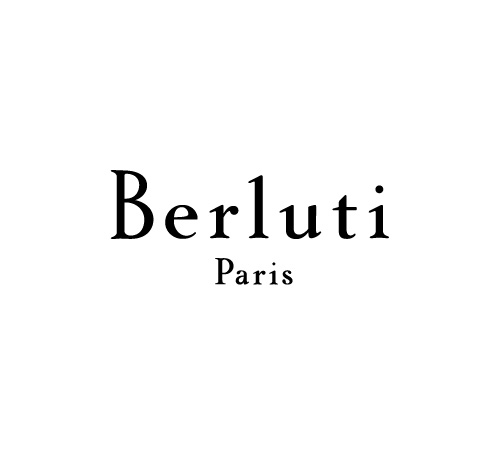 Berluti was established in Paris in 1895 and has been built by four generations of shoemakers. In 2005 fine leather goods were introduced and, in 2011, a complete clothing collection. A unique bespoke service from head to toe is now available through Berluti's workshops in rue Marbeuf and rue de Sèvres. Berluti now has over 47 stores worldwide.

Location:
Shop 2807, Level 2
Shoppes at Four Seasons
Opening Hours:
Sunday – Thursday 10:00am - 11:00pm
Friday – Saturday 10:00am - 12:00am

Tel:
+853 2896 2855

Website:
https://www.berluti.com/
Berluti has been making shoes for the elegant man since 1895. Offbeat classicism and technical virtuosity are keynotes of the House, while its character remains the same. To visit Berluti is to experience first-hand the leading character traits of the House.
Inspired by Parisian architecture, the founders of the House designed their models on pure, classic, timeless lines. At today's Berluti, classic style is still a sound value, but never a constraint. The models in our collections are worn with unrestricted ease.
Berluti products are imbued with an authenticity and culture on their own. Whether it is a custom-made shoe or a jacket from the ready-to-wear collection, purity of line is always the key. Subtle touches catch the eye in the gleam of a patina or the sheen of a fabric. One comes to Berluti not for showy luxury, but for luxury pure and simple.
Berluti doesn't follow fashions, it sets them. In the 1980s, when virtually all men's shoes were black, brown or bordeaux for the most extravagant, the House opted for color and developed the fine art of patinated leather. Produced by hand by expert colorists and replete with essential oils, the patinas, with evocative names like "cocoa", "autumn leaf", "smoky gray black" and "Saint Emilion", give shoes a distinctive color rich with life and character.
Discreet or extravagant, sober or flamboyant, this patina makes each pair of Berluti shoes unique, in the image of the man who owns them. Because he is the one who chooses the final patina.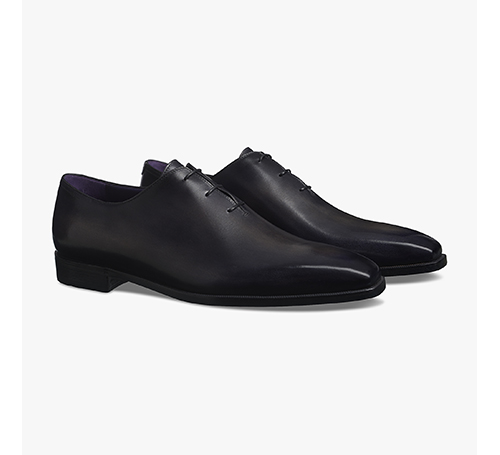 Alessandro Lace-up Court Shoes
A lace-up court shoe constructed from a single piece of leather with no visible stitching, the Alessandro was created by Alessandro Berluti in the same year that he founded the House in 1895 and has remained largely unchanged to this day.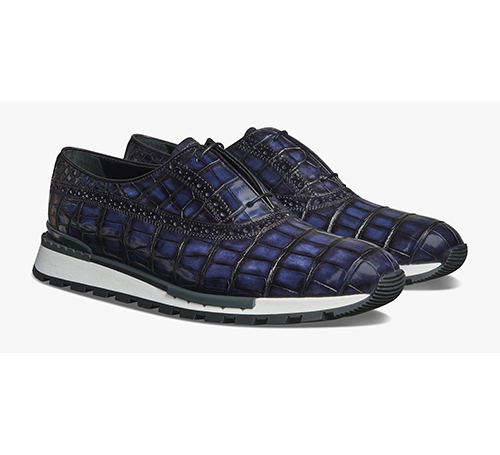 Fast Track Sneakers
Berluti is taking the pursuit of casual elegance to the next level with the Fast Track, a hybrid trainer drawing its inspiration from running shoe styling.
---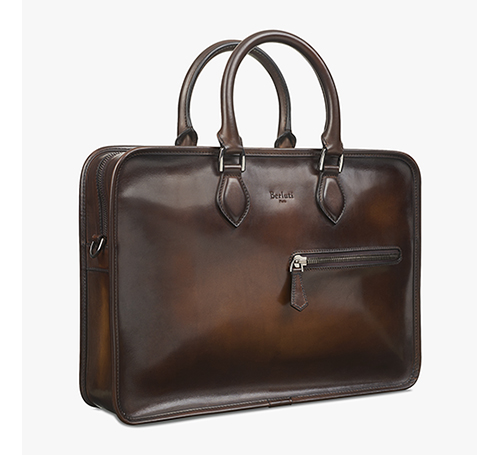 Un Jour Briefcase
Created in 2005, at the outset of the House's expansion, Un Jour briefcase haa become the center-pieces of the leather goods collection.
The Un Jour briefcase with its large zip-fastened central compartment which offers space for a laptop is the classic man's briefcase or day bag.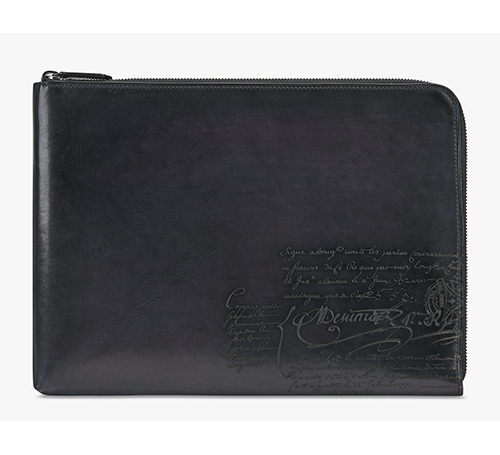 Nino GM clutch
Nino GM Scritto Swift that is adorned with the signature Scritto script engraved onto the emblematic Venezia leather. A lightweight and elegant document holder, the Nino GM Scritto Swift is also the perfect carry case for a 10" tablet computer.